WTC Responder Day is a free public annual event to honor and highlight the efforts of World Trade Center recovery workers. In 2008 and 2010 Feel the Music! pa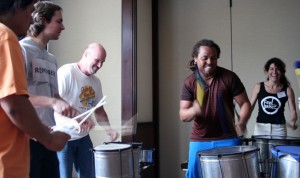 rtnered with Mt. Sinai WTC Medical Monitoring and Screening Program to provide music and arts activities for WTC responders and their families: free music workshops, arts workshops, a public concert at St. Paul's Chapel (featuring performances in Polish, Spanish and English) and a publicly created mural.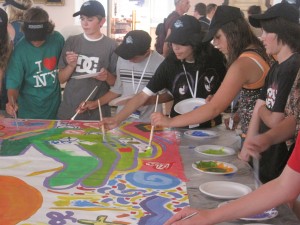 The inaugural event, held on June 14, 2008, brought together hundreds of WTC responders and their families along with members of the general public.  Representatives Carolyn Maloney and Jerrold Nadler were in attendance. In 2010, WTC Responder Day was held on June 5th and again served hundreds of people including WTC responders, their families and members of the public. An estimated 300 people worked on the 2010 public art mural. The 2010 concert was hosted by Mike Sheehan and featured moving performances by the AFTRA singers, the Peace of Heart Choir, the Angelus Choir, America meets Cuba, Valerie Ghent, Captain Norma Hardy, August Moon and the Port Authority Police Department Pipes and Drums Band.
All WTC Responder Day events are free of charge and open to the public. WTC Responder Day takes place in Lower Manhattan in locations around the WTC site: the Millennium Hilton Hotel, St. Paul's Chapel and Tribute Center.