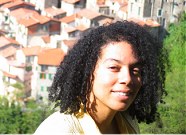 Feel the Music!
teaching artist
Tova Snyder
is an international painter and muralist who has focused on public art and painting on canvas. She has created art installations for the
Nice Jazz Festival
and international festivals in Italy and Brazil. Her largest piece of public art is a six-story mural off the Grand Concourse in the Bronx. In 2001, Tova's design '
Railways and Rooftops
' was selected for the fabrication of twelve panels in faceted glass at the Harrison, NY, Metro-North train station. The panels were permanently installed in the station house windows and elevator towers. In 2005 Ms. Snyder received the prestigious
Westchester Arts Council Arts Award
for outstanding achievement, leadership and vision as an artist and educator who has contributed to the cultural life of the community. Ms. Snyder graduated from Yale University and received a Master of Fine Arts from Temple University.
Through Feel the Music!, Ms. Snyder is currently working on a nine-month mural project with 9/11 families to be exhibited on the 10th anniversary as well as a public art mural made up of handwritten reflections about Sept. 11 from people who work and live in Lower Manhattan entitled "9/11 Tenth Anniversary Reflections".