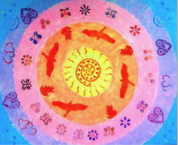 In keeping with our mission of providing a space for creative expression, Feel the Music! launched the 9/11 Mural Project, a nine-month visual art project to create a group of murals created by 9/11 family members to be commemorative of the 10th anniversary of September 11th.
Families who lost a loved one on 9/11 were invited to create a 10-piece mural reflective of the journey of thousands of individuals impacted by 9/11 throughout the previous ten years.
Led by international painter and muralist Tova Snyder, Feel the Music! offered ten art workshops at Saint Peter's Church in New York City.
A tremendous success, ten beautiful and evocative murals were completed. The below mural, titled "Tree in Bloom", was displayed at the Tribute WTC Visitors Center for 6 weeks around the 10th anniversary of 9/11 and seen by thousands of visitors, as well as featured on international news. Our congratulations to our families who worked so hard on this project.
Read more about this project HERE.