Feel the Music! Saturdays is a bi-monthly, three hour music and arts education series for children and families impacted by September 11, including those wh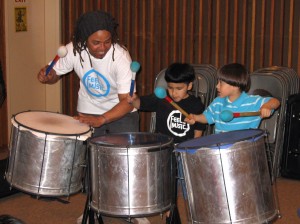 o lost a loved one, recovery workers and their friends/family.  Classes in singing, percussion, piano, songwriting, jazz improvisation, jewelry making and art are offered to participants and culminate in public student concerts (often with renowned artists and ensembles such as the Arturo O'Farrill Latin Jazz Orchestra) at St. Peter's Church. The program goal is to bring high quality music and arts education to people impacted by 9/11.
Feel the Music! Saturdays have been offered since 2005 and have a dedicated group of families who attend each session. Initially Feel the Music! Saturdays were offered weekly, in 12 week cycles in Fall/Winter/Spring (see Past Events). Due to funding cuts this beloved program now takes place every other month.
Feel the Music! Saturdays are offered free of charge to members of the 9/11 community and their friends. Sometimes families contribute by bringing lunch for the group.  Special events, such as arts nature retreats, field trips and holiday concerts, are held each year.
Additional activities have emerged from Feel the Music! Saturdays: 1) families occasionally sing for the St. Peter's Senior Center (meets one floor above every Saturday); 2) families have been invited to submit art created at Feel the Music! for a dedicated art show at St. Peter's Church; 3) we offer annual field trips to museums/musical theatre when possible.