The frog is an unlikely symbol of recovery, resilience and compassion. Yet for families who lost loved ones on September 11, in the 2004 Madrid bombings, for families left devastated by Hurricane Katrina, soldiers in Iraq, and the families in Haiti, the humble frog became a gentle reminder that others "care about us and share our sorrow."
The Feel the Music! 'Frog Project' began in 2007 when 9/11 families in the Feel the Music! program hand-painted 150 small percussion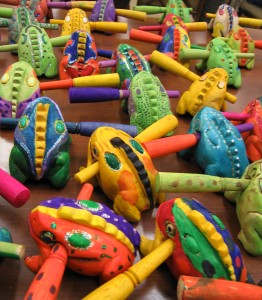 frogs, with the hope of connecting families in different countries and regions who have experienced similar losses and grief.
Half of the percussion frogs were were sent to "Asociacion 11-M" in Madrid, for children who lost parents in the Madrid 2004 train bombings. The other half were sent to childcare centers in New Orleans through "We Care New Orleans". Each frog had a small note attached to its foot: "With love, from 9/11 families to you".
The response to these tiny gifts was truly overwhelming. We had no idea that these frogs would trigger a domino effect of children of one disaster helping children of another disaster. Yet when the frogs arrived in Madrid, children there responded by wanting to "create something for our friends in New York." When the frogs arrived in New Orleans, teachers there were inspired to expand 'The Frog Project' and plan to decorate and send frogs to tsunami victims in the Pacific and to children affected California wildfires in San Diego and Los Angeles.
This overwhelmingly positive response inspired Feel the Music! to continue The Frog Project. In 2008, 9/11 families hand-painted a second batch of percussion frogs and these were sent to an army hospital in Iraq.  There, the frogs provided much needed moments of joy to dozens of soldiers.  We were especially moved to hear that soldiers were giving their frogs to Iraqi children.  In addition, at the inaugural WTC Responder Day in 2008, first responders and their families painted frogs to send overseas.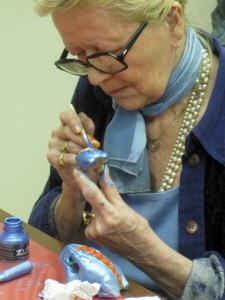 The Feel the Music! Frog Project has continued into 2010 and 2011: families in the Feel the Music! Saturdays program, seniors at St. Peter's Church, responders at WTC Responder Day and at the First Responders Alliance in April have all been busy hand-painting a third batch of percussion frogs to send to children and families in Haiti.