Feel the Music! for Seniors engages seniors in the creative process of songwriting by helping them to tap into their memories, emotions and life stories in twelve 60-minute weekly songwriting and singing workshops. Following completion of the workshops, seniors have the opportunity to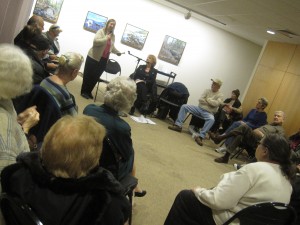 share their talent with friends, family members and the community through a public concert. During the workshops seniors experience the thrill of discussion, creative play, interaction, and active listening in writing games, timed writing with a wide variety of prompts, and a chance to listen to others read. The workshops provide an encouraging environment for seniors of all musical levels.
The series culminates in a public concert at St. Peter's Church, with professional musicians performing alongside participating seniors.
With nothing more than a pen, a notebook, and some helpful ground rules and gentle guidance, seniors have fun while shaping their experiences and dreams in writing. They engage in creative art of songwriting, enjoy the stories the other senior writer, and participate in and create an audience for their own work. Part of the goal of the program is to build community and combat feelings of isolation by helping seniors tap into their memories, emotions and life stories and listen to the stories of peers. Music and communication can be very powerful medicine.
Though the Feel the Music! for Seniors initiative, Feel the Music! increases the relevance of its mission by bringing music to and engaging creativity among the richly diverse yet under-appreciated, often isolated group of fellow citizens: NYC seniors.