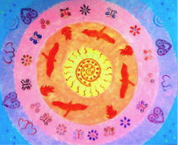 In keeping with our mission of providing a space for creative expression, Feel the Music! has launched the Mural Project, a nine-month visual art project to create a group of murals commemorative of the upcoming 10th anniversary of September 11th.
In an effort to pay homage to the past, and thinking towards the future, families who lost a loved one on 9/11 are invited to come and join the project on a bi-monthly basis between the months of October 2010 and June 2011. The goal is to create a 10-piece mural reflective of the journey of thousands of individuals throughout the years. Led by international painter and muralist Tova Snyder, the workshops will take place at Saint Peter's Church in New York City.
The Feel the Music! Mural Project is open to all 9/11 families. Our first workshop will be held on Saturday, October 2, 2010. (Future dates will be announced soon.) Space is limited, so please RSVP soon if you'd like to join us.
WORKSHOP INFORMATION
DATE: Saturdays October 2, 2010; December 11, 2010.
TIME: 10:30am-1:30pm
PLACE: Saint Peter's Church, 619 Lexington Avenue, New York, NY, (entrance on 54th St.)
Future sessions announced soon
To Register: call 212.669.6126 or email Lucia Dundara Lucia@musicandhealing.org
This program is supported, in part, by public funds from the New York City Department of Cultural Affairs in partnership with the City Council and the LMCC's Fund for Creative Communities.