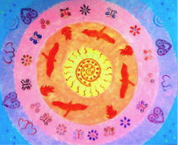 BIG NEWS! We are delighted to share that one of our Feel the Music! murals will have its first opening at Tribute WTC Visitor Center this summer.
Tribute WTC Visitor Center will display one of the Feel the Music! murals during the upcoming 10th anniversary. To have the work of 9/11 families in our Feel the Music! program recognized by Tribute, which welcomes 500,000 visitors to the WTC site each year, is indeed an honor – especially this fall, during the 10th anniversary of 9/11.
The opening will be held in mid-August, and the mural will be displayed at Tribute until at least mid-September. We will post an announcement as soon as we know the exact date of the opening.
The Feel the Music! mural project is a nine-month visual arts project where 9/11 families have been creating 10 murals, one for each of the ten years since 2011, in commemoration of the upcoming 10th anniversary of September 11th. Created by 9/11 family members in the Feel the Music! program, led by international muralist/painter Tova Snyder, the mural project has literally grown before our eyes into a stunning representation of transformation and rebirth. The murals are reflective of the journey of thousands of individuals throughout the past ten years.
This program is supported, in part, by public funds from the New York City Department of Cultural Affairs in partnership with the City Council and the LMCC's Fund for Creative Communities.