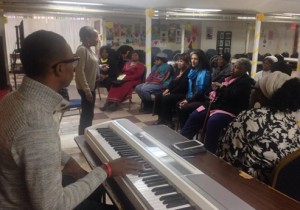 We are delighted to announce our newest teaching artist, Oscar winner Janice Pendarvis, is leading an inter-generational choir for Feel the Music! at Bailey's Cafe.
Youth and seniors meet Fridays from 3pm-5pm for six weeks; culminating in a public performance May 16, 2014.
Have a desire to sing?
Join our Inter-generational Choir!
Janice Pendarvis, Choir Director
Marienne Thomas, Assistant Choir Director
When:
Choir classes are April 4, 11, 25; May 2, 9, 16
Where: Fort Greene Stuyvesant Heights Senior Center
69 Macdonough Street
STUDENTS: Community Service Hours are Available for Participating