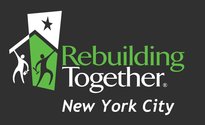 Feel the Music! joins Rebuilding Together NYC on Saturday, April 26, 2014, to celebrate the Canarsie, Brooklyn community as part of National Rebuilding Day.  Volunteers will make major repairs for home-owners affected by Hurricane Sandy, host a neighborhood clean up and a mural beautification project.
As a part of the day's culminating event, Feel the Music!'s own teaching artist Dende Macedo will lead volunteers and community members in a drumming workshop as they come together to share, reflect and connect.
Join us as we celebrate this community and those helping to rebuild it, together.
Sign up to volunteer here, and be sure to connect with us on Facebook and Twitter for pictures and updates!