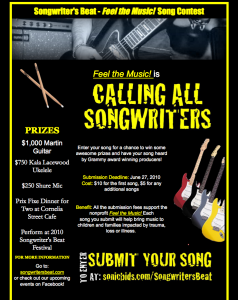 Feel the Music! is CALLING ALL SONGWRITERS!
Enter your song for a chance to win some awesome prizes and have your song heard by Grammy Award winning producers!
Submission Deadline: June 27, 2010
Cost: $10 for the first song; $5 for any additional songs
Benefit: All the submission fees support Feel the Music! Each song you submit will help bring music to children and families impacted by trauma, loss or illness.
Prizes: $1,000 Martin Guitar, $750 Kala Ukelele, $250 Shure Microphone, Perform at the 2010 Songwriter's Beat Festival
Judges: Legendary songwriters Ashford & Simpson, Grammy Award winning producers Mike Barbiero & Ted Perlman, hit record producers Mike Thorne, Steve Addabbo, Joel Jaffe, Harvey Goldberg, Songwriter's Guild ProShop songwriter/mentor Ann Ruckert.
Confirmed Festival performers: Felicia Collins, Martha Redbone, Tabitha Fair, Keith Fluitt, Rob Morsberger, Bertha Hope & Monica Hope, Peter Calo and more, including festival producers Valerie Ghent, Deni Bonet, Deborah Berg and Ann Klein.
For More Information go to songwritersbeat.com or check out our upcoming event on Facebook!