Public Art Project for People Who Live and Work in Lower Manhattan
Launched by Tribute WTC Visitor Center & Feel the Music!
As the 10th anniversary of 9/11 approaches, Lower Manhattan is feeling the increasing impact of the anniversary commemorations. Tribute WTC Visitor Center, arts nonprofit Feel the Music!, and The Battery Conservancy have joined together on a public art project to provide residents and those who work in the area with a unique opportunity to reflect on their experiences, both on 9/11 and today.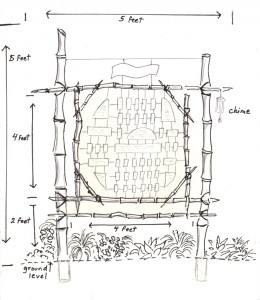 During the month of July, curators, artists and Tribute volunteers will collect handwritten and hand-drawn thoughts and feelings of people who live and work in Lower Manhattan about the impact of the 9/11 attacks on their lives. Tables will be set up in key locations in the neighborhood on four Wednesdays, from 11am-2 pm, and on Thursday, July 7, from 4pm-7pm. All residents and people who work in Lower Manhattan are invited to participate.
What: "9/11 Tenth Anniversary Reflections" public art project
When/Where:
Wed. July 6 11am-2pm Peter Minuit Plaza (in front of the Staten Island Ferry)
Thurs. July 7 4pm-7pm Hudson River Park's Pier 25
Wed. July 13 11am-2pm Coenties Slip Park, 36 Water Street
Wed. July 20 11am-2pm World Financial Center Courtyard, adjacent to Starbucks
Wed. July 27 11am-2pm 59 Maiden Lane Plaza
Cost: FREE
The collected reflections will be assembled into a unified visual expression of community members' sentiments by international painter and muralist, Tova Snyder. The final work of art, "9/11 Tenth Anniversary Reflections", will be installed on August 4th, 2011 at The Battery, near its Gardens of Remembrance, a 10,000-square-foot garden planted to honor those who perished, as well as those who survived.
The final artwork will incorporate bamboo (including bamboo poles recycled from the recent Metropolitan Museum exhibit, Big Bambu) and displayed along the walk way of the Gardens of Remembrance. Participants and the general public will be able to read, see and be moved by one another's thoughts and contributions in this touching and inspirational work of public art.
The project is a collaboration of Tribute WTC Visitor Center, Feel the Music! and The Battery Conservancy and has been made possible with support from the NYC Department of Parks and Recreation, Feel the Music!, Tribute WTC Visitor Center, with additional support from the NYC Department of Cultural Affairs, Brookfield, 59 Maiden Lane Associates LLC, Hudson River Park Trust, and Manhattan Youth.
About Tribute:
The Tribute WTC Visitor Center is located at 120 Liberty Street along the south side of the World Trade Center site. The center was created by the September 11th Families' Association to share the personal stories of victims, survivors, rescue and recovery workers, volunteers, and residents of Lower Manhattan. By engaging visitors in the authentic experiences of those most affected by the events of February 26, 1993 and September 11, 2001, the center's five galleries and its walking tour program convey the efforts of those who responded to the tragedy and the steps taken towards working for a more peaceful world by many of those impacted by the events. Tributewtc.org
About Feel the Music!:
Feel the Music! is a nonprofit organization which provides music and inspiration to children, families and adults impacted by trauma, loss or illness. Founded in 2005 to serve 9/11 families, survivors, witnesses and recovery workers by using music and art to foster recovery and resilience, Feel the Music! continues to work with the 9/11 community to this day and has since expanded to serve hospitals, schools and senior centers in NYC. Partnering with local communities, Feel the Music! brings world-renowned musicians and teaching artists who engage participants with hands-on workshops, concerts, lessons and public art projects. feelthemusic.org
About The Battery Conservancy:
The Battery Conservancy was created in 1994 as a 501(c)(3) not–for–profit educational corporation to rebuild and revitalize the Battery and Castle Clinton National Monument, the park's major landmark. The Battery remains one of the oldest public open spaces in continuous use in New York City. This is the first art project that is being planned specifically in relationship to the Gardens of Remembrance, which were created as to honor both those who were lost and those who survived. batteryconservancy.org
About Tova Snyder:
Feel the Music! teaching artist Tova Snyder is an international painter and muralist. She has created art installations for the Nice Jazz Festival, international festivals in Italy and Brazil, a six-story mural off the Grand Concourse in the Bronx and the Harrison, NY, Metro-North train station. A recipient of the prestigious Westchester Arts Council Arts Award, Ms. Snyder is currently working with Feel the Music! on a nine-month mural project with 9/11 families to be exhibited in September, 2011.