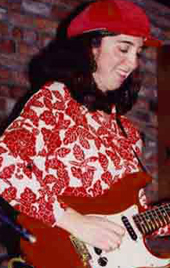 "New York's Ann Klein is one of those singer/songwriters whose résumé—stints as a guitarist for Natalie Imbruglia, PM Dawn, Ani DiFranco and others—gives her license to howl. And for her fifth album, a half-studio/half-live affair, Klein proves her dues-paying was worth it. The lusty twang of "Truth & the Bluff" contrasts with the atmospheric serenity of "My Old Shoes", yet whether raving up or revving down, Klein's confident delivery and musky, Joan Osborne-esque pipes consistently keep the material's core emotions in focus. Somebody call the Bonnaroo bookers: This gal's as steamy as a hot July afternoon." Fred Mills, HARP
As a songwriter, Ann has been lucky to perform on stages from Austria to Austin. Whether playing solo acoustic at a folk house concert or at a rock/blues club with a trio, Ann always delivers a great show full of songs that run the gamut from playful to pensive, all accompanied by her stellar guitar/mandolin playing, story-telling and crackling dry humor. She has: toured regularly in Europe for the last 10 years; performed at a growing list of house concerts clubs and coffeehouses all over NYC, the tri-state area and in Texas as well. She has been featured on NPR, WDST and WXPN and has received generous press from Billboard and other American and European publications. In addition to independently recording 5 cds, Ann was commissioned to compose music for "The Energy Factory", an organization dedicated to tackling the problem of the growing obesity issue among young children and also wrote several cues for Metro Music, a vibrant NYC music library. She also composed music for three documentaries for French television for director Jean-Francois Vallee. Ann is on the faculty of the 92nd Street Y, a prestigious organization where she performs regularly and teaches songwriting workshops/guitar. Ann is a fellow of the MacDowell Colony, a highly exalted artist colony in New Hampshire, where she was given a two-month grant in 2000. In 2005, she was a guest teacher at the Music Rhythmic Conservatory in Copenhagen, Denmark. Ann has also volunteered with "Musicians on Call", providing acoustic performances for people suffering in hospitals.
In addition to writing and performing her own music, Ann is a highly sought after guitarist/mandolinist. She has recorded for or shared a stage with: Ani DiFranco, Allen Toussaint, Joan Osborne, Kate Pierson of the B-52s, PM Dawn, Toshi Reagon, Larry O'Keefe/PBS, Darden Smith, Maurice Sendak, Will Lee, Allison Cornell, Holly Near, Ferron, Laura Love, Natalia Zukerman, Gail Ann Dorsey, Sara Lee and Natalie Imbruglia, among others. She has also played guitar in such Broadway shows as Grease, 9 to 5, Baby It's You and Kinky Boots. Off Broadway theater credits include Everyday Rapture, Trip of Love, Waitress and several Shakespeare in the Park productions.
917-859-1033