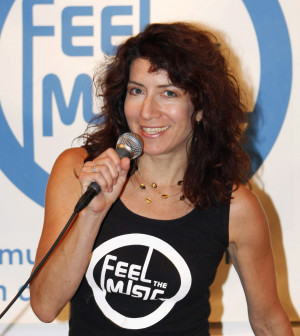 Executive Director of Feel the Music!, Valerie Ghent is a singer-songwriter, recording artist and musician. Valerie has released five CD's on her own label, including the album Day to Day Dream – which featured Love Enough for a Lifetime, a #1 single on iHeart Radio, added to Sirius XM nationwide and the album added to 100+ stations in the EU/UK/AU. Valerie worked closely with renowned singer-songwriters Ashford & Simpson since 1989 as keyboardist, vocalist and recording engineer and continues to record and perform with Valerie Simpson.
A native New Yorker, Valerie volunteered at the WTC site for nine months after 9/11 and  founded Feel the Music! in 2005. She has received multiple grants, awards and commendations for her work including the Betances Award for Service to the Arts. In 2000 Valerie founded NYC's long-running Songwriter's Beat, which provides performing and writing opportunities for performing songwriters.
In addition to Ashford & Simpson, artists Valerie has toured, recorded and performed with include Deborah Harry (Blondie), Nina Simone, Billy Preston, Dr. Maya Angelou, TM Stevens, Grayson Hugh and many more.
Valerie is an instructor of Qi Gong, Ba Gua Zhang and Xing Yi Quan with New York Internal Arts and as photographer, has collaborated on nine books.